Global Apollo Programme For Renewable Energy Unveiled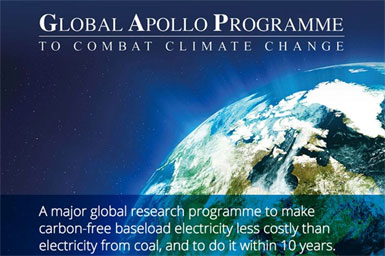 Source: Energy Matters
A proposed research program aims to make carbon-free baseload electricity cheaper than electricity from coal fired power generation – and to do it globally within a decade.
The Global Apollo Programme will invite all countries to join and sets a target of new-build base-load energy from renewable energy sources being cheaper than new-build coal in all sunny parts of the world by 2020, and worldwide from 2025.
Those behind the project say it will be quite a challenge and will require a huge amount of research and development funding – approximately AUD $296 billion. This is to address what is referred to as a current "shocking underspend" on renewables R&D.
It's claimed publicly-funded RD&D (research, development and demonstration) on renewable energy is currently less than 2% of the total of publicly funded R&D – only around USD $6 billion in total globally.
"Even in the major international companies which manufacture solar and wind equipment, the ratio of R&D to sales is under 2%, compared with over 5% in consumer electronics and 15% in pharmaceuticals. So a public sector initiative is vital," says the proposal.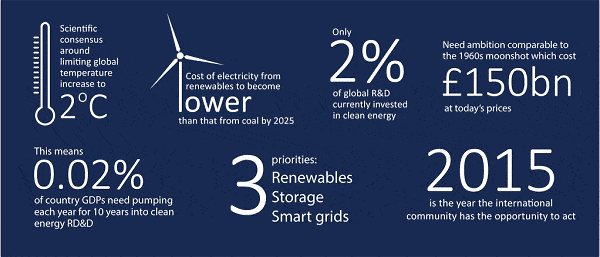 Countries joining the initiative will need to kick in at least 0.02% of GDP to public expenditure on the Programme over a 10-year period. This cash would be funneled into R&D activities associated with renewable energy (primarily wind and solar power), energy storage and transmission; i.e., smart grids.
The Global Apollo Programme proposal is authored by Sir David King; a former UK Government Chief Scientific Adviser, Lord John Browne, Lord Richard Layard, Lord Gus O'Donnell, Lord Martin Rees, Lord Nicholas Stern and Lord Adair Turner.
The Programme has already been privately discussed with various governments and apparently has been widely welcomed (we wonder if the Australian government is among those to have warmly embraced it). The proposal will be discussed at the G7 meeting next week and the authors hope a majority of countries will have joined the initiative by the end of this year.
"In the past, when our way of life has been threatened, governments have mounted major scientific programmes to overcome the challenges. In the Cold War, the Apollo Programme placed a man on the moon," say the authors.
" Today we need a global Apollo programme to tackle climate change; but this time the effort needs to be international."
The proposal, A Global Apollo Programme To Combat Climate Change, can be viewed in full here (PDF).